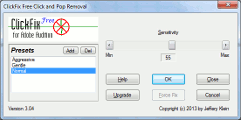 ClickFix Free - click on image for larger view
ClickFix Free has these features:
Fast, accurate click removal ClickFix uses a proprietary statistical technique to locate clicks and pops. It does not use edge detection or spectral analysis. This special technique results in much faster, more accurate click and pop detection than other methods.

Force Fix Lets you repair short waveform defects that ClickFix cannot repair automatically, such as tape dropouts. If you prefer to repair clicks individually, Force Fix is ideal.

Presets ClickFix integrates seamlessly with Adobe Audition and Cool Edit. It has easy-to-use presets for immediate results, or you can configure the settings yourself for optimal performance.

On-line Help You can click the Help button or press F1 for assistance.

Works with Adobe Audition 1.0 through 3.0, Cool Edit 2000, and Cool Edit Pro.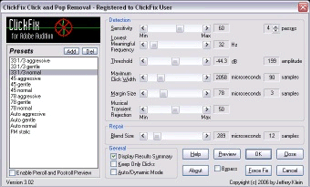 ClickFix (full version) - click on image for larger view
ClickFix (full version) has all the features of ClickFix Free, plus these additional features:
Real-time Preview Lets you to listen to the results while you make setting adjustments. ClickFix's high speed makes this possible.

Keep Only Clicks Lets you remove the undamaged signal, leaving only the clicks and pops, so you can see and hear what ClickFix would otherwise remove.

Auto/Dynamic Mode Tells ClickFix to adjust most of the settings automatically. This improves detection and repair, and makes ClickFix even easier to use.

Detection and Repair Controls When Auto/Dynamic Mode is turned off, these controls let you adjust various detection and repair parameters, giving you full control over how ClickFix detects and repairs clicks.

Musical Transient Rejection Ensures that ClickFix removes only clicks and pops and does not dull musical content such as cymbal crashes and brass entrances.

Multi-pass Operation Ensures that every click and pop is eliminated.

Results Summary ClickFix can optionally display a detailed summary report after processing completes. Included is the number of clicks repaired, widest click, narrowest click, average click width, and average time between clicks.
Results Summary - click on image for larger view
Home Features Download Frequently Asked Questions
Tips and Tricks Support Comments Links Register
Copyright © 2018 Jeffery Klein
All Rights Reserved
To contact the author:
clickfix@jdklein.com
Please include the word "ClickFix" somewhere in the subject line.